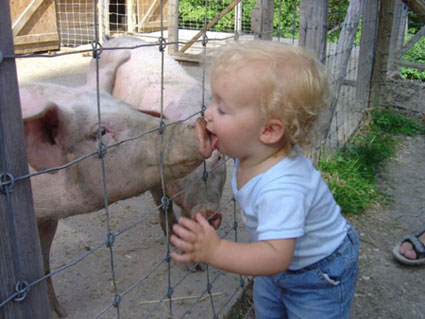 Nicholas Kristoff continues the Pork/MRSA story in another Op-Ed piece for the New York Times today entitled '
Pathogens in our Pork
'.
"We don't give antibiotics to healthy humans," said Robert Martin, who led a Pew Commission on industrial farming that examined antibiotic use. "So why give them to healthy animals just so we can keep them in crowded and unsanitary conditions?"
The answer is simple: politics.
Legislation to ban the nontherapeutic use of antibiotics in agriculture has always been blocked by agribusiness interests. Louise Slaughter of New York, who is the sole microbiologist in the House of Representatives, said she planned to reintroduce the legislation this coming week.
"We're losing the ability to treat humans," she said. "We have misused one of the best scientific products we've had."