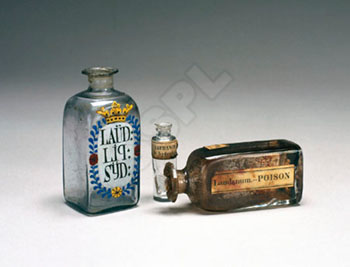 In the early 1800s, morphine and opium were the drugs of choice for treating tuberculosis (and many other diseases). Drugs that actually cured the disease, or even its symptoms didn't exist yet, so all that physicians could do was dose their patients with something to dull their pain. Morphine, along with its derivatives, including opium, laudanum (used to induce sleep), and heroin (good for quieting a cough), were perfect for this. Unfortunately, many doctors neglected to mention its addictive qualities, and patients were addicted before they knew it.
With the antibiotic resistance that many strains of tuberculosis are now showing, how soon before we're back to morphine with no other alternative?
For more about morphine and its role in Victorian treatment, click
here
or
here
.