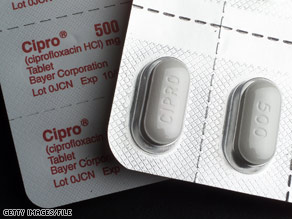 Fluoroquinolones are a family of antibiotics with a wide range of action against both gram-positive and gram-negative bacteria. Because they are easily taken up by human cells, fluoroquinolones are commonly used against bacteria that inhabit host cells.
Unfortunately it appears that these very useful and widely used drugs may have a number of serious side effects.
Just last month
the
FDA ordered
their strongest "black box" label warning to alert patients to the danger of possible tendon ruptures and tendonitis.
The FDA is not releasing numbers but apparently there have been 'hundreds' of cases of Achilles tendon ruptures. Obviously there is an interaction with lifestyle here, and those that are physically fit, and put pressure on the Achilles tendon are most likely to be injured.
'Sometimes patients have no symptoms before they experience a rupture in their tendon -- commonly their Achilles tendon. Sometimes it's been reported on the first day of taking a fluoroquinolone ... a sudden snap or popping sound that is tendon rupture with no preceding warning.'
So, if you have to take an antibiotic for any reason, do your homework. Look up the side effects. If it seems you are at extra risk for those side effects (like you run or play a sport) then you might want to ask your doctor if there are alternatives. Quinolone antibiotics associated with tendonitis and tendon rupture include Cipro and generic ciprofloxacin, Factive (gemifloxacin), Levaquin (levofloxacin), Avelox (moxifloxacin), Noroxin (norfloxacin), and Floxin and generic ofloxacin.